What, When & Where
[
download workshop book
]
The second
CORE Workshop
and
Mid-term Review
took place on 3 -5 September 2018 at University of Rouen, France hosted by Beneficiary Partner,
SMS laboratory "Sciences et Méthodes Séparatives »
and Associate Partner,
PCAS
. All Early Stage Researchers (ESRs) and their supervisors, together with representatives of the associate partner organisations, external experts, and the project manager met to discuss the CORE project.
This event was followed by the BIWIC2018 25th International Workshop on Industrial Crystallization Conference: .
A detailed agenda is presented below.
Who?
Early Stage Researchers (ESRs), their supervisors and colleagues, representatives of the partner organisations, external experts and the project manager were invited to participate in this event.
Practicalities
All ESR participants were expected to be
present on Monday 3 September 2018 at 08:30 hrs.


All Supervisors, Associate Partners and External Experts were invited to be present on
Monday 3 September through to Wednesday 5 September 2018.LOCATION

The event was held at the "Maison de l'Université" situated on the campus of "Mont Saint Aignan" of the University of Rouen.
This place is about 15 min by bus from the city town (line TEOR T1, "Campus" station, more information here).

TRAVEL
Information about travel to Rouen can be found on the main University of Rouen webpages
ACCOMMODATION
ESRs and Supervisors made their own hotel arrangements.
Detailed agenda
Monday 3 September 2018 - hosted by SMS (Maison de l'Université)
Start
End
Activity
08:30
08:45
Registration / coffee
08:45
09:00

Welcome (Prof Gerard Coquerel – UR)

Introduction to the second workshop (Prof Joop Ter Horst - USTRATH)

09:00
09:45
Toolbox Introduction – model compounds and toolbox ESRs
09:45
11:00
Core toolbox presentations by ESR x 3 * (20mn + 5mn questions)
11:00
11:20
Break (Hall MDU)
11:20
12:40

Core toolbox presentations by ESR x 3 * (20mn + 5mn questions)

12:40
13:40
Lunch
13:40
15:20
Core toolbox presentations by ESR x 4 * (20mn + 5mn questions)
15:20
15:35
Break
15:35
16:20

In Parallel

: Industrial Toolbox meetings (WP 3, 4, 5)
16:25
17:10

In parallel

: Sub committees meetings (WP 1, 2, 7, 8)
17:45
Short Guided Tour of the City of Rouen http://www.rouentourisme.com/guided-tours-agenda/
Tuesday 4 September 2018 - hosted by PCAS
Start
End
Activity
08:30
10:00
Bus to PCAS
10:00
10:15
Arrival at PCAS and Welcome
10:15
12:20
CORE toolbox presentations by ESR x 5 * (20mn + 5mn questions)
12:20
13:45

In parallel:

Working Lunch - Supervisory Board [SB]
Non SB ESR Lunch (12)

13:45
14:45
Toolbox summary and discussion
14:45
16:45
Tour of PCAS by ESRs and attendees
17:00
18:30
18:30
Arrival in Rouen
19:30

CORE Network / MTR Dinner in the Center of Rouen - Le Bistro D'Arthur
* Order of ESR presentations to be confirmed
Wednesday 5 September 2018 - hosted by SMS (Maison de l'Université)
Start
End
Activity
08:30
09:30
Steering Committee meeting (For beneficiary partners only)
10:00
10:05
Welcome Prof Joop ter Horst, Coordinator
10:05
10:10
Introduction by Research Executive Agency Representative (Ioanna Peppa, Project Officer)
10:10
10:20
Tour de table: All scientists-in-charge briefly present their research team and describe their role within the network.
10:20
11:05
Coordinator's Report, Professor Joop ter Horst, University of Strathclyde, Scotland UK (USTRATH)

Scientific Basis and Progress of CORE ITN
Training Programme
Networking
Management

11:05
11:25

Coffee break

11:25
12:05

Individual Reports from Early Stage Researchers in WP3: Towards Continuous (10 minutes each)

ESR1: Shashank Bhandari, Otto-von-Guericke University Magdeburg, Germany (OVGU)
ESR2: Johannes Hoffmann, University of Strathclyde, Scotland UK (USTRATH)
ESR3: Francesca Cascella, Otto-von-Guericke University Magdeburg, Germany (OVGU)
ESR4: Brigitta Bodak, ETH Zurich (Swiss Federal Institute of Technology in Zurich), Switzerland (ETH)

12:05

12:55

Individual Reports from Early Stage Researchers in WP4: Hybrid Resolution (10 minutes each)

ESR5: Giuseppe Belletti, Radboud University Nijmegen, Netherlands (RUN)
ESR6: Giulio Valenti, SYNCOM, The Netherlands
ESR7: Ryusei Oketani, University of Rouen, France (UR)
ESR8: Francesca Breveglieri, ETH Zurich (Swiss Federal Institute of Technology in Zurich), Switzerland (ETH)
ESR9: Carola Tortora, Friedrich - Alexander University Erlangen - Nürnberg, Germany (FAU)

12:55
14:05
Lunch
14:05
15:05

Individual Reports from Early Stage Researchers in WP5: Enabling Resolution (10 minutes each)

ESR10: Jan-Joris Devogelaer, Radboud University Nijmegen, Netherlands (RUN)
ESR11: Aliou Mbodji, University of Rouen, France (UR)
ESR12: Lina Harfouche, University of Rouen, France (UR)
ESR13: Vacancy (USTRATH)
ESR14: Raghunath Venkatramanan, University of Strathclyde, Glasgow, UK (USTRATH)
ESR15: Ghufran ur Rehman, University of Manchester, UK (UM)

15:05
15:20
Coffee break
15:20
16:00
Meeting between Early Stage Researchers and Research Executive Agency Representative
16:00
16:20
Meeting between the Coordinator, representatives of the other beneficiaries/partner organisation and the REA representatives
16:20
17:00

Feedback and Open discussion

17:00
Close of MTR
18:30
BIWIC Conference Welcome Reception
Thursday 6 and 7 September 2018
BIWIC2018 25th International Workshop on Industrial Crystallization Conference: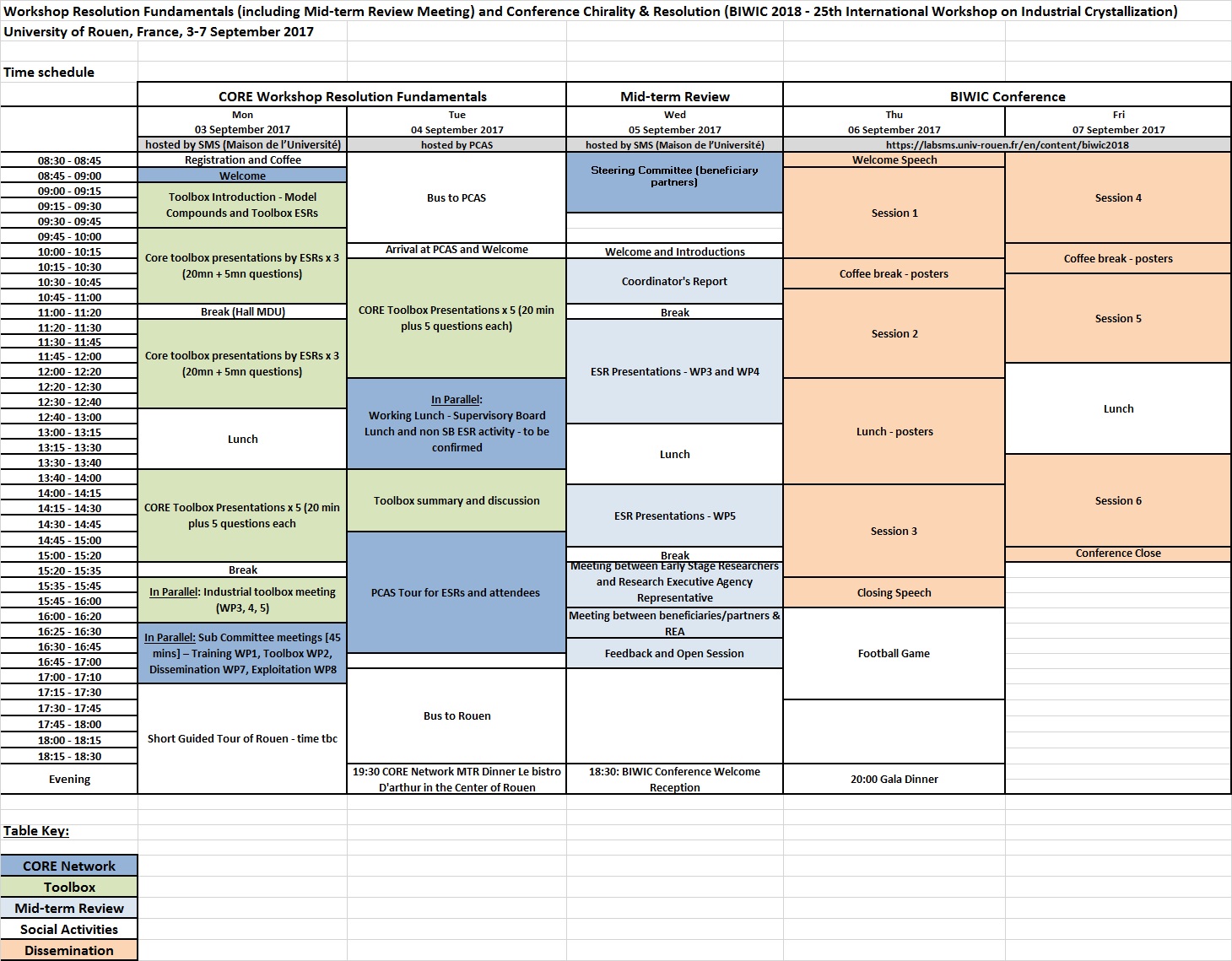 Contact
For any questions, please contact: